KC Cable Features
Micro strip signal lines(Signal lines on both layers are running on the ground lines on opposite layers)guarantee good data transmission.


100mm and 200mm are available.Choose either length depends on clock speed.


50pin type(number of effective signals is 48 signals)and 80pin type(number of effective is 78 signals)are available.


These products are in compliance with RoHS which are very safe for environment.
cable Material
FPC
Attenuation
-1dB at 200MHz, L=100mm
-1dB at 100MHz, L=200mm
cable DC resistance
1Ω at 100mm
2Ω at 200mm

◆option
Shield cover (EMI countermeasure)
Characteristic impedance: 75Ω also possible
Micro strip signal lines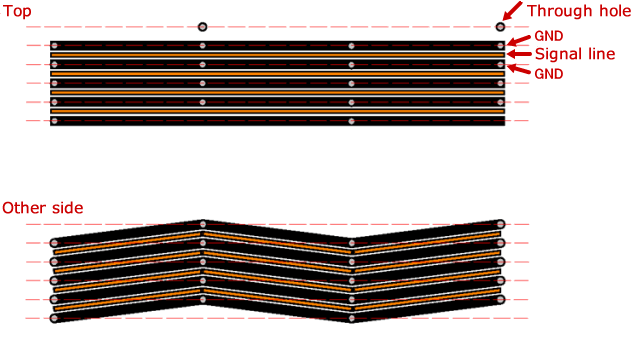 Enclose signal line (transmission line) in the GND line, by making the back to GND, electric force lines and the lines of magnetic flux is concentrated fairly between the signal line (transmission line) ground, will be weak in the other place.
Electromagnetic field is confined by becoming weaker. Therefore, there is no signal attenuation, there is no reflection of the signal in the middle and the input and output terminals.
In addition, the straight line of the surface, and the back side in a zig-zag manner, to achieve the equal-length wiring.